Why Do People Rely on Fotor's Photo Cropper?
Effortlessly crop out any unwanted parts and highlight with the photo cropper

Did happen to snap a shot where there was more than what you wanted in it? How are going to fix it? Cropping an image is a great way to cut out anything unwanted, so you can control the image composition as you need to and add an amazing perspective. With Fotor's Photo Cropper, you can choose what size to chop it down to and instantly edit in the perspective you want or remove anything unwanted by dragging any of the corners on the box that appears over your uploaded image, changing your image's orientation after a few clicks.

Crop images for any social media size

Cropping photos into any size you need is much easier with Fotor. No matter what social media size you need, like a Facebook Cover Photo or a size that adheres to the golden ratio, you just need to select one style and crop out any excessive pixels if necessary. Four simple clicks later, you will crop your images, so that they become your Facebook cover, YouTube Thumbnail, Twitter cover... updating your covers on your social media platforms easily.

Free to crop photo without stretching

You can crop your heart's content, and you won't need to worry about losing image quality in Fotor's photo cropper. It is also totally free. Just upload your images and choose the crop size where you drag to the box's corners, so that any image can fit any size. Do not hesitate to try Fotor's free photo cropper.
What Can You Do with Fotor's Free Image Cropper?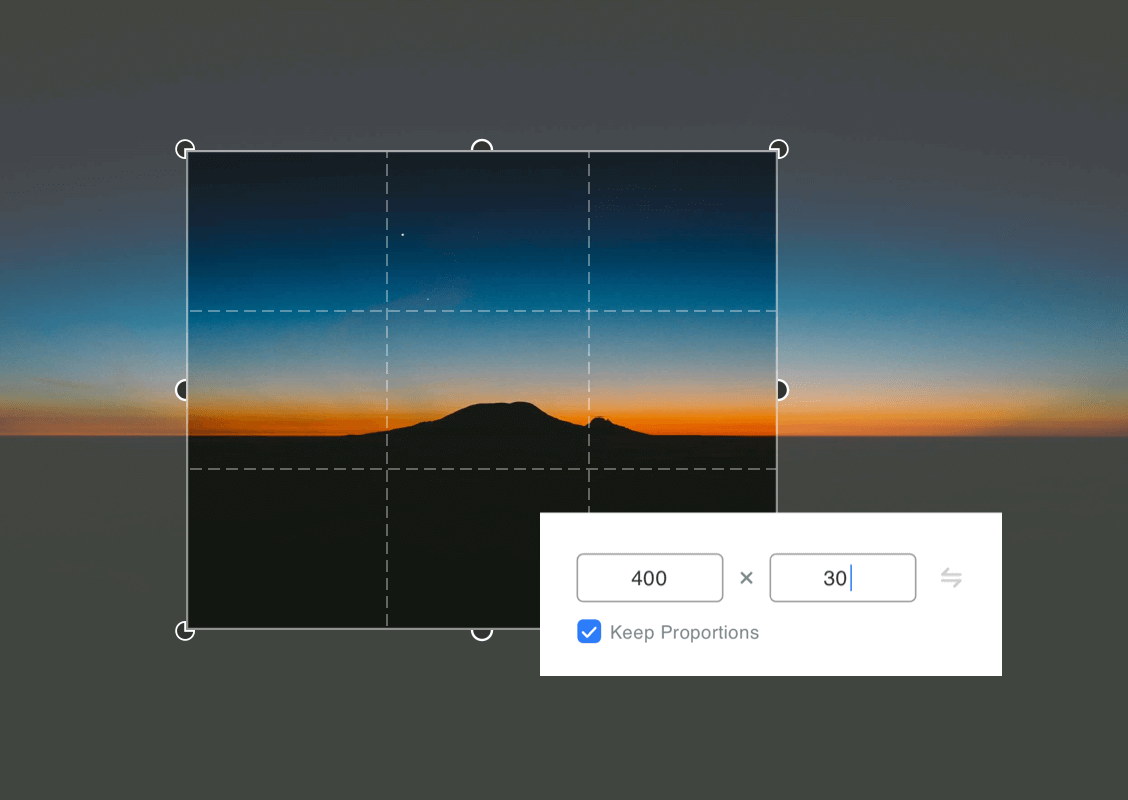 Crop photos to the exact size you want!
Streamlining the image post process, Fotor's free online photo cropper allows you to easily and quickly crop unnecessary elements from your photos to highlight only the best parts of your image. Choose from our nine pre-set dimensions, including square, basic ratios, and phone screen sizes, or crop using your preferred height and width. Now you can easily crop your photos to suit every social media platform, such as Facebook, Twitter, and Instagram!
How to Crop Your Image with Fotor's Photo Cropper?
1

Open Fotor Photo Crop and upload the image you want to modify.

2

Drag the corners of the scale diagram to adjust the photo size.

3

Choose from our selection of pre-determined dimensions, or type the exact measurements in the "Width" and "Height" fields.

4

Choose a format for your image and save it.
Frequently Asked Questions
How do you crop a JPEG picture?
1. Go to the online image cropper and upload your JPEG picture.
2. Pick the size to crop and change the pixels to where you need them.
3. Click "Apply", share, and save it.
How can I crop a picture faster?
You need to use Fotor's online photo cropper, which will help you cut pictures in just a few clicks. You don't need to download anything besides your cropped photo. Just upload your image and choose the size you need. Furthermore, adjust the size by dragging the box's corners. Click Apply. Save and share your cropping image.
How do I cut out part of a picture?
That's a piece of cake. Open the best photo cropper – Fotor, and pick the size you need. Then enlarge or shrink the cut size by dragging the box's corners. Click "Apply" to make it official. You can cut out any part of any image in minutes.
Fotor is not just Providing the Best Photo Cropping Experience
Best Free Online Photo Cropper
Fotor provides you the total freedom to crop photos to the exact size you want with ease! You can crop images using scales, choosing a preset size, or entering the exact size you want! Try Fotor's photo cropper today!