Why Do People Love Fotor's Photo Stitch Tool?
Ease to collage photos into a masterpiece

Stitching photos means creating a photo collage with several photos that can come together like they are one picture. In Fotor, all you need to stitch photos is to upload your images and drag and drop into the "Plus" frame one at a time. Stitching pictures together can create disparate contrast in layouts and display in a unique way.

Free to stitch photo together

Fotor is a free photo stitching software and provides a simple way to help you join multiple pictures together into one image. The best is that it's absolutely free from start to finish! That means no need to worry about the budget. Just open your mind and stitch your images with Fotor.

Meet your professional and personal needs

Photo stitching is a good way to have a reminder of your great memories from the important moment in your life. You can use photo stitch to collage photos of your documents and print it if you need it in the future. You can stitch your pictures to sell items online. It will look great and help attract more buyers easily. Fotor is a free online photo stitcher and syncs to the cloud. Whenever you need it, just go to Fotor cloud and find it.
Feature of Fotor's Photo Stitching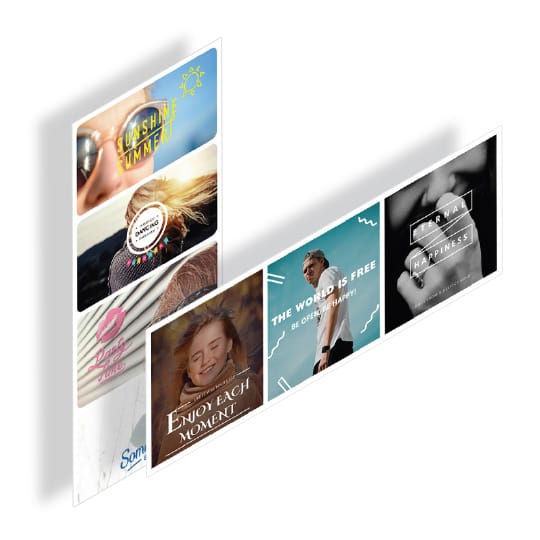 Pic stitching has never been this easy!
With our Photo Stitching tool, not only can you stitch multiple photos together vertically or horizontally but also alter the thickness and color of your border. Use this feature to create interesting photo effects, change the canvas size, rotate photos, or add overlays to your work. The handiest photo joiner and combiner is only at Fotor!
How to Stitch Photos?
1

Click "Make a Collage" and click the "Stitching" on the dashboard on the left side, choose the vertical or horizontal layout.

2

Open your selected images in Fotor's collage maker.

3

Drag and drop your photos into collage cells, change spaces and corner rounding as you see fit.

4

You can also modify backgrounds, borders and add effects, stickers, and text.

5

Save your work, choosing the format and quality desired.
Frequently Asked Questions
How do I put two pictures together?
1. Open Fotor and click "Make a Collage".
2. Click "Stitching" on the dashboard on the left side. Choose the vertical or horizontal layout.
3. Upload your two images.
4. Drag and drop your images into the stitching cell one at a time.
5. Click "Save".
How do you put multiple pictures in one story on Instagram?
9 photos in one picture is so popular on Instagram and is a great way to tell your story. If you want to do that, Fotor's collage maker will help you do that easily, no matter how many photos you want to show. Just upload your images and drag and drop into the collage cells. After that, you can also add text or stickers to your story. Then, you can share your story on Instagram.
How do I create a photo collage?
Fotor is an online photo collage maker, which can give you so many choices for collaging your images into one picture. From the photo grid collage, artistic collage, funky collage to photo stitching. You just need to go to Fotor and choose the collage style you like and upload your images, and then drag and drop them into the collage cells. After a few clicks, and you will finish one great work of art.
Fotor is not just providing the best photo stitching experience
The best free online photo stitching tool
Fotor's pic stitch tool can stitch photos online for free either vertically or horizontally. It's a great way to display your best images on social media and help you garner more likes. Image stitching has never been easier with Fotor's photo stitcher!